Compare your costs for a traditional project to a solar alternative.

In the past, solar lighting was practical for remote locations with no possibility of a grid connection. But now? Today's solar lighting is more viable for more projects than ever before, even when a grid connection is close by.
How would your costs measure up? Consider your specific project location: what does it cost to add on-grid power? Use our cost calculator below to compare traditional grid costs to solar costs and determine which is the best option.

BEFORE YOU START: GATHER YOUR DATA!
From the Build & Price tool, click the link "Bring my Build & Price Estimate to the Cost Comparison Worksheet" to return to this page. The numbers will automatically fill in Part 2 of the chart below.
Use your own existing data and knowledge to fill in the numbers for Part 1.
All numbers in hand? Fill them in now to see your project cost comparison.
Disclaimer: Pole foundation considerations are not included in this worksheet (minimal cost discrepancy between traditional and solar lighting).

Disclaimer: the Build & Price Street estimate is using IES recommended practice RP-8 for local roads with low pedestrian conflict and may not be accurate for your location. Call us to get a proper quote.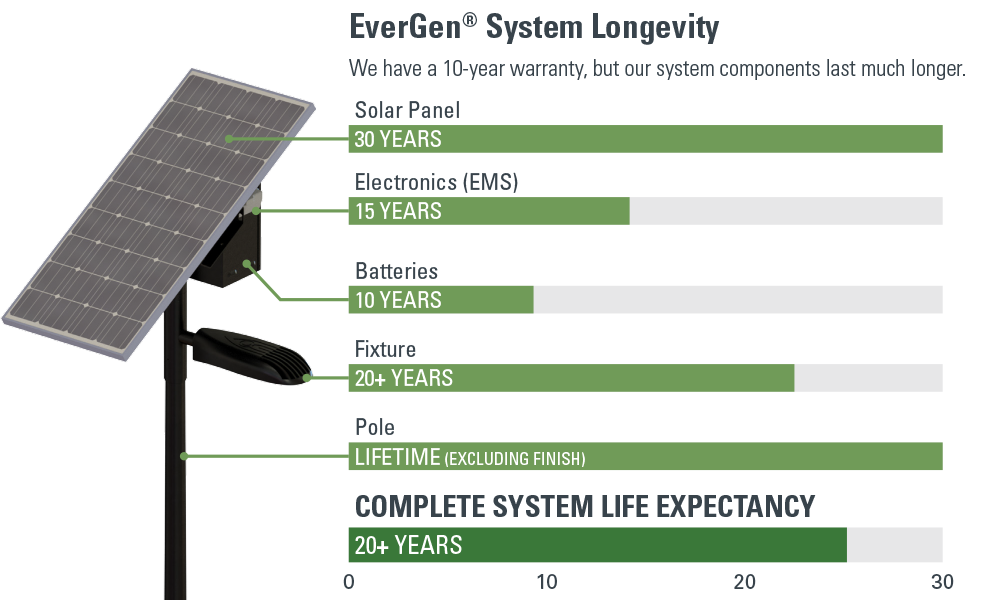 We guarantee performance.

As the worksheet above may have revealed to you, solar is more affordable than ever for a project like yours—but does it work?
Our EverGen will meet—and sustain—the light levels you require, while also ensuring you have enough power left over to always have backup. We'll guarantee it by providing a 10-year system and battery warranty. When you choose the EverGen, your solar lighting will work for the long term.
Explore how the EverGen's performance compares to some typical solar competitors and to traditional grid-connected lights. Use the chart below to compare some basic considerations; let's use a collector road in California as a base to compare the four lighting options.