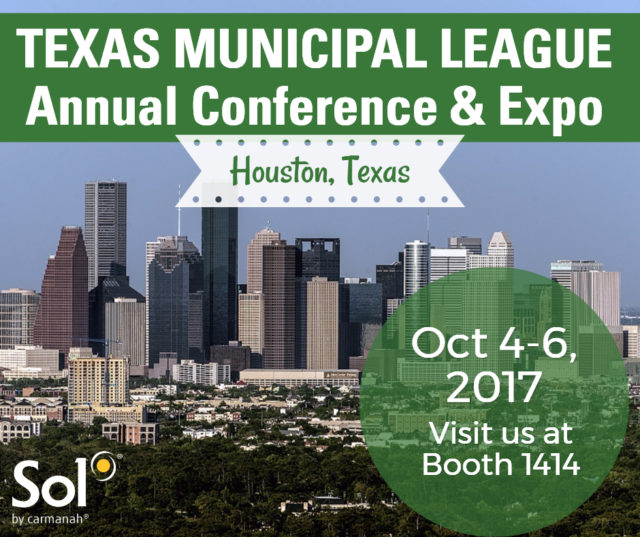 Solar outdoor commercial lighting on display at Sol's booth at Texas Municipal League Exhibition
Event: Texas Municipal League Annual Conference and Exhibition
Location: George R. Brown Convention Center – Houston, Texas
Conference Dates: October 3–6, 2017
Expo Hours:
Wednesday, October 4: Noon–5 PM
Thursday, October 5: 8 AM–4 PM
Friday, October 6: 8 AM–10:30 AM
Booth Number: 1414
About the Show:
Visit Sol at Booth 1414 to learn about solar outdoor commercial lighting and how the new EverGen M Series can benefit your city's streets, pathways, parking lots, and more. Sol offers solutions designed to help Texan cities put better, long-term commercial solar street lighting in place.
One thing we won't miss about the old lights is writing out the check to the utility company each month; those savings can go towards the student services." – Bob Chastain, Director of Physical Plant of Odessa College, Texas
Hurricane Harvey was not enough to stop the Texas Municipal League Annual Conference and Exhibition from happening; in fact, organizers see the conference as a way to show support for communities affected by the storm. All visitors are invited to bring canned food, help sort and pack items, or make a financial donation in support of the Houston Food Bank, the 18 counties in southeast Texas affected by the storm, and the 600 relief organizations working with them.
Whether you are focused on planning, safety and wellness, infrastructure, or one of the other concurrent session tracks at the TML Conference, there is an opportunity to learn valuable information to enhance your community. Visit Sol's booth to learn more about solar lighting for municipalities.
Questions? Contact [email protected].